No, it's not the banks for once.
Europe's telecom companies have the worst-performing shares in the region this year. It's hard to see what might lift the gloom.
Even after a third quarter in which some operators, including Telefonica SA, Telecom Italia SpA, Deutsche Telekom AG and Orange, delivered respectable if unspectacular results, investors are unimpressed. An index of the sector's shares has fallen 20 percent in 2016, coming in dead last in terms of total returns to shareholders if you add back the effect of dividends. So much for being defensive.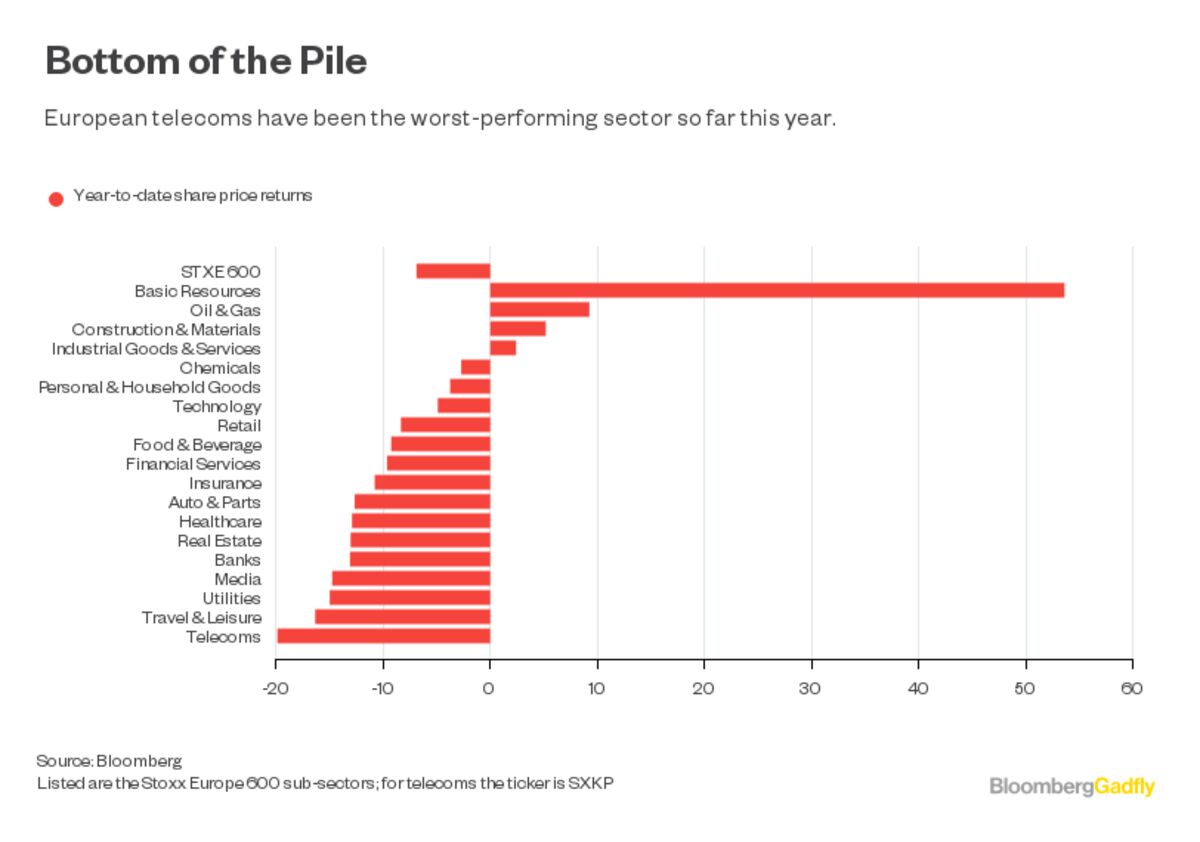 Vodafone Group Plc encapsulates much of what's wrong. It eked out organic service revenue growth of 2.4 percent in its fiscal second quarter, building on 2.1 percent in the first, helped by demand in Germany and Italy. That's not bad, considering the same measure shrank for three fiscal years from 2013/2014.
Investors responded with a resounding "meh." Instead they focused on how Vodafone's capital spending is still high, even after a two-year burst of investment dubbed Project Spring. A move to sell more all-inclusive bundles of broadband, television, and fixed and mobile calling should help keep customers loyal, but the discounts dent revenue. A 5 billion euro ($5.3 billion) write-down on its Indian mobile business, under siege from a new price-cutting competitor, didn't help.
READ MORE: WEEKLY TELECOM STOCK ROUNDUP BY NASDAQ
As Bloomberg Intelligence analyst Erhan Gurses points out, the forces depressing Vodafone's shares are playing out to varying degrees at other incumbents. In fact, Vodafone's 7 percent drop this year is better than Telefonica's 21 percent decline, and Orange's 12 percent. Only Patrick Drahi's Altice NV, Switzerland's Sunrise Communications Group, and Denmark's TDC A/S have risen this year.
The sector's overall value shows a deep malaise. It's at roughly a two-year low, with the enterprise value hovering around 6.2-6.4 times forward Ebitda, according to Bloomberg data:
The sector had hit a recent peak in 2015, when investors were betting on acquisitions and a softer line from Brussels on regulation. Operators were building 4G networks in the hope that consumers would pay more for better speeds. Capex seemed manageable.
The optimism has faded. The regulatory thaw did help in some areas, but it was hard to raise prices for 4G given the stiff competition. Things got worse when the EU's competition chief Margrethe Vestager started rejecting national mobile mergers.
Even in markets that did manage to cut the number of wireless operators from four to three, such as Germany and Austria, the expected profit boost didn't follow. Competition stripped away the benefits from cost cuts. At the same time, operators are spending more to lay fiber lines. As I've written before, this means the important capex-to-sales metric will probably remain higher than it's historical trend.
So where does that leave bosses like Vodafone's Vittorio Colao? He and his counterparts need sustained market share and revenue growth. Delivering on promises to increase operating profit would help too. According to the Bloomberg consensus of analysts, Orange, Telefonica, Deutsche Telekom and Vodafone are expected to do so, along with others.
Such modest gains are unlikely to spur a sector re-rating, according to Macquarie analyst Guy Peddy. The enterprise value of U.S. carriers AT&T and T-Mobile trade is not much higher at 6.5 times forward Ebitda, and their earnings are increasing more quickly. It's hard to argue that Europe's carriers should be more richly valued. Even their favored status as a dividend play will lose its allure if bond yields keep rising. At least the banks can look down on someone.
Source: Bloomberg