All of your numbers, contacts, call & SMS data is stored in the cloud, so you can connect to your life from any device, anywhere in the world.
What is an onoff Number?
We all have multiple email addresses (work/home), multiple social profiles (Facebook, Twitter, etc.) — and can log into these from anywhere, right? Yet we only have one phone number, which we can only use on one phone. We've spent our lives being forced to accept this terribly inconvenient fact. Well, not any more… onoff App allows you to add unlimited numbers on your phone instantly.  You can access them from any iOS or Android device, anywhere in the world.
READ MORE: OTT messaging will be 10x larger than SMS by 2020
An onoff Number can do everything that a normal mobile number can do, except it's not stored in your phone, or on your SIM card, it's stored in the Cloud….oh, yeah… and it's MUCH more awesome than a regular phone number!
How are they different from normal mobile phone numbers?
Firstly, think of everything that your current phone number can do (call, text, voicemail, etc.) — well, onoff Numbers can do all that too BUT, and here's the cool bit, they can do SO MUCH MORE.  In a nutshell:
They're cloud-based mobile phone numbers.
Unlimited numbers — you can get as many as you like!
They can be added to your phone instantly — it only takes about 10 seconds and a couple of clicks!
Any device — because all data is stored in the cloud, you can log in to your numbers, contacts, calls and texts from any iOS or Android device! So, if you lose or break your phone you can still stay connected to your life.
They work all over the world — because they use the same system as your phone (GSM) — unlike Skype, or Viber — your onoff Number will work all over the world, regardless of where you are.
READ MORE: Consumer Migration to OTT Services to Cost Mobile Operators More than $100bn in Lost Revenues this Year
Quality — again, because they use the GSM system, your call quality will be crystal clear — much better than an internet call.
International numbers — we source and provide numbers from all over the world and we're adding more and more all the time…
Vanity numbers — in the market for a good-looking, eye-catching number? You've come to the right place. You can use our search function to find the ideal number for you, then make it yours with just one tap!
Message the future — our unique 'Delayed Message' feature allows you to type a message then schedule the date and time that you want it to arrive with your recipient — instead of being sent instantly (you can send regular, instant ones too, of course!). Woohoo, no more missed birthday messages!
onoff Numbers are awesome!
…and there's so much more to come!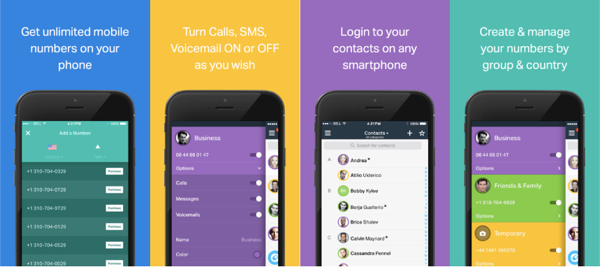 With onoff Numbers you have complete control. You have the ability to turn any aspect of your numbers — calls, texts, voicemail – 'ON' or 'OFF' (hence the name) as you wish, it's up to you. You can even switch the whole number 'off', giving you some peace for as long as you like.